Interview with Mr Jacek Bednarek & Mr Grzegorz Bednarek - company founders of Food Ingredients Group
- The companies that make up the Food Ingredients Group are family-owned companies composed of 100% Polish capital. Over the 21 years of its existence, FIG has grown into a major player in the food industry on the international market. Watching the spectacular growth of the companies, we have the impression that success and growth is written in the DNA of the companies! It looks like even despite the difficult market situation, 2022 was an extremely beneficial year for FIG as a whole?
- First of all, we see a rapid development of all companies from the Food Ingredients Group. We have long-term development plans.  On the one hand, a calendar year is long, and a lot can be achieved during it, on the other hand, it is only a fragment of time for the implementation of these large strategic plans. When we summarize 2022, we see many successes and favorable changes in our companies. We are also pleased that we have set goals for the upcoming 2023 and we know perfectly well how they will be achieved.
- Food Ingredients Group consists of five companies that, working for companies from the food industry, support each other with their experience and know-how. The assortment and the work system of sales representatives and R&D departments have been designed so that the development of one of the companies drives the development of the others. All the companies cooperate closely. Their offer is complementary and fully compatible. Recently, we have seen a huge increase in customer interest in our products in all industries.
- What has changed in the companies themselves?
- We are changing our approach to management. We are transferring more and more power in companies into the hands of managers, specialists and experts in management and finance. We know that at the current stage of our development we can do this without worrying about  stability and future, and we can focus ourselves  on long-range plans to expand FIG.
- We definitely know that we have reached a stage of development where our direct daily presence is no longer needed. This has freed up the right amount of "space" for strategic thinking about the group as a whole and investments around the world.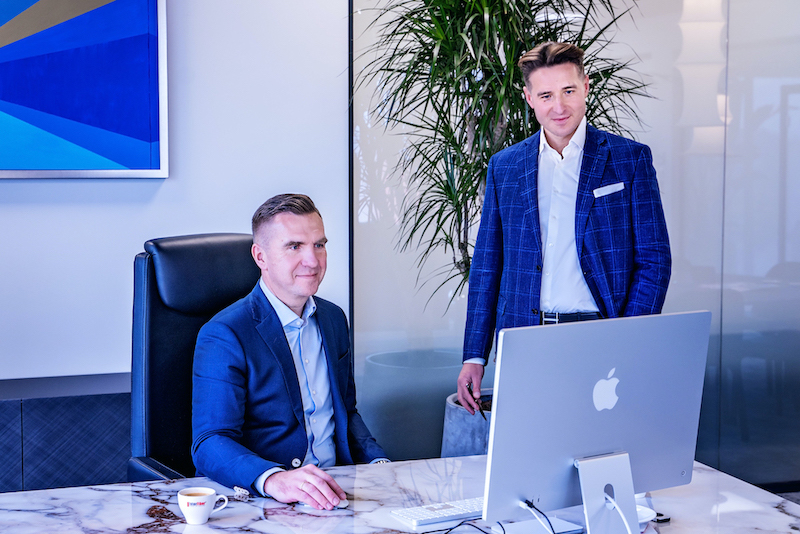 - By the end of 2021 you were finalizing the construction of the office part and starting another development. What has been accomplished in 2022?
- To be honest, we have been in the investment process for several years. We have already put into use the headquarter where the laboratories of Quality Control and R&D Department, Fiber Academy Application Kitchen in Lipka near Warsaw were located. The construction of Interfiber's new 10,000-square-meter production halls and warehouses, which began a year ago (09/12/2021), has just been completed and we are in the process of construction supervision acceptance. In the first half of the year, we are starting two more investments in a prime location near Warsaw. This will be the construction of Libra's new production facility, where, in addition to production lines with blending systems, spice extract production lines and cryomilling, a storage system, the Quality Control and R&D laboratories, Application Centre and all office departments will move. In addition to the domestic market, the new factory will serve the ever-growing export and contract orders. At the same time, we are starting construction of a plant for Flavours Factory - this will be an equally large investment, in the flavor industry the most modern in Central and Eastern Europe, with two independent production lines for sweet and salty flavours, with high-performance spray dryers and lines for emulsions and vegetable extracts. Here, too, of course, in addition to "production" and warehouses, there will be research and development laboratories, application labs and entire office facilities. The new investment will allow us to increase our production capacity by about 10 times, and thus enable us to expand more widely in other markets as well.
- And with regard to investments outside Poland: the construction of a factory in the USA dedicated to serving the North and South American markets - is already advanced, which will allow us to dramatically improve logistics and reduce transportation costs and any duties and taxes.
There are also plans to build a fiber plant in China in the near future. A few years ago, we invested in the development of the Salesforce IT system, which binds together the operations of all companies and enables them to operate consistently around the world. In fact, the decision to bundle all companies with a single CRM system has created new opportunities that were not possible before.
-Thank you for the interview and I wish you another year filled with success!